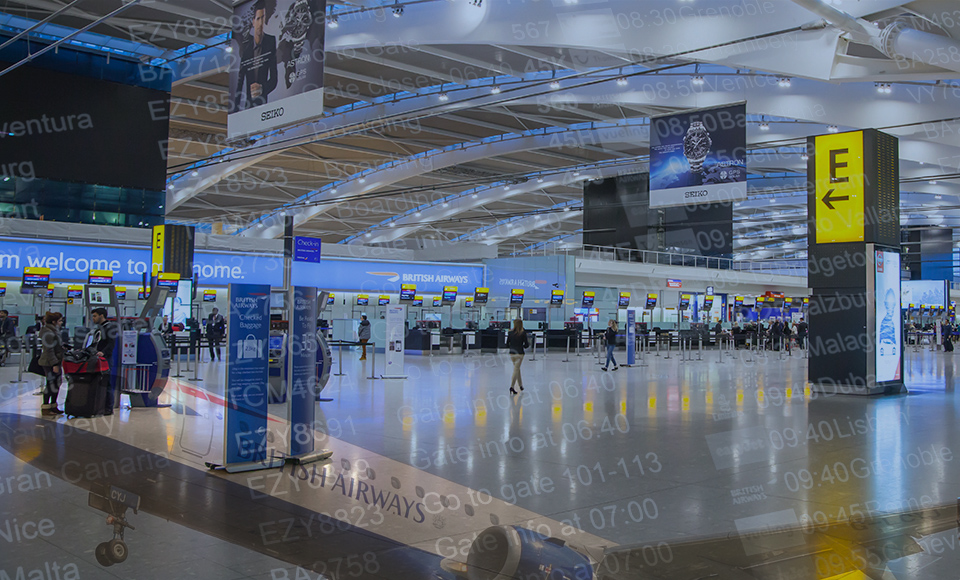 We have worked at a number of UK Airports, providing turnkey best-in-class design and build solutions for our clients. And our engineers have the necessary security clearances that enable them to work airside.
Recent Projects at Heathrow Terminals 1,2 & 3
Designed & built new Advanced Fare Machines (AFM) facilities on behalf of TFL in time for the 2012 Olympic Games.
Installed new Energy Efficient LED Lighting at the Terminal Station as well as new Landmark Advertising Signage.
Heathrow T1, 2, 3 Temporary AFM Ticket Enclosure
In preparation for the increased passenger flow through Heathrow Airport during the Olympic Games, Delatim were contracted to construct a new temporary ticket machine room within the terminal building.
Delatim were appointed as the Principle Contractor to design and build the new AFM including all services within a very tight programme.
Delatim's design scope included the production of a full CDS and Cat2 check and sketches prior to construction.
Installation scope for this project included;
Principle Contractor duties under the CDM Regulations
Construction of AFM unit – fully compliant with LUL and BAA fire standards
LV supply to unit including all lighting and small power
CCTV installation
Stainless steel finishes
Trolley Barriers
Cladding of new AFM unit
Heathrow Airport Visitor Information Centre
The Project involved the decommissioning and removal of the existing Travel Information Centre
(TIC) and the creation and bringing into use of a new and expanded Visitor Information Centre (VIC).
The New VIC consisted of a main customer retail area with a total of 7 service desks including various leaflet / retail and flat screen information points.  The existing TIC and the new VIC are located in the Ticket hall area of Heathrow 123 on the Piccadilly Line at Heathrow airport.
Delatim were awarded a design and build contract for the works at Heathrow Airport.  The works involved developing a non-used area of the Terminal 1,2 & 3 station and converting the space into a new Visitor Information Centre.  During the project Delatim had to engage and work collaboratively with other Stakeholders involved with the Project including BAA.
Erection of the site hoarding
Decommissioning and removal of the existing TIC fabric and services
Temporary and permanent fire stopping
Builders work openings and making good
Removal and reinstatement of the existing ticket hall ceiling and services to allow theconstruction of the enlarged VIC
Establishing site temporary power
Erection of masonry and Metal frame walling
Installation of floor and wall finishes
Installation of false ceilings
Installation of glass walling system
Installation of fixtures and fittings
Installation of retail units and displays
Installation of all services
Facilitate and support installation works by LU Contractors
Inspection, Testing and Commissioning of all elements
As built / MAID deliverables
BIU / Delivery into service.
Bombardier – Heathrow T5
Delatim supported Bombardier in installing electrical and data cabling required to operate the Platform Edge Doors necessary for the INNOVIA APM 200 automated people mover system at Terminal 5C.  The APM system was required to ensure the convenient and efficient mobility of passengers between different areas of the terminal.
Works included the following.
Installation of LV electrical supplies to door control system
Enabling of Leaky Feeder Radio Cabling
Installation of data cabling from control system to door units
Installation of new cable management systems
Assisting Bombardier Team with testing, commissioning and delivery of vehicles into service